EXPANDABLE UP TO 16 SITES
Videoconferences can be conducted simultaneously at up to 16 sites.
The system can be expanded from 8 to 12 sites, and from 12 to 16 sites.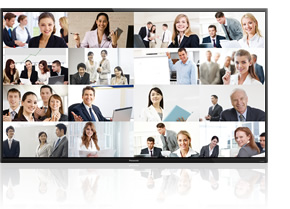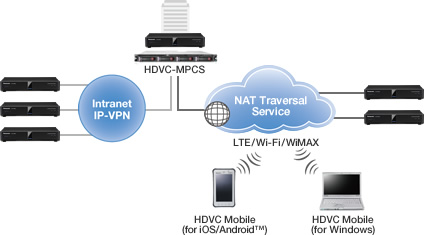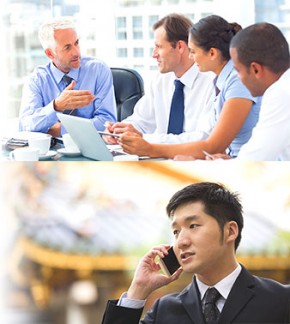 HD VIDEO CONFERENCE
Clear, easy-to-see HD images show even the fine facial expressions of the other party. Regardless of how distant the sites are, you can communicate almost as if you were in the same room.
H.264 High Profile Compatibility
H.264 High Profile compatibility allows HD images to be displayed at a low bandwidth (512 kbps).*1
*1 Upgrade the connected HDVC unit (KX-VC300) to software version 3.10 for this usage.
Differing Speeds with Optimal Images*2
HD images and SD images can be transmitted separately. Each of the sites will use images that are optimal for its speed, rather than having to match the speed of the lowest sites.
*2 HDVC Mobile (for iOS/Android™) displays SD images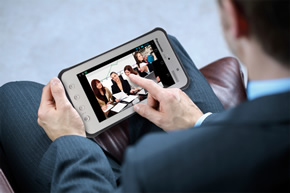 VIDEO CONFERENCES WHILE YOU'RE ON THE GO
You can use a tablet, a smartphone, or a PC to take part in a video conference while you're on the go, by using an HDVC application. Even without a VPN, the NAT Traversal Service makes it easy to connect from outside the company. You can also connect to two network types — an intranet and the NAT Traversal Service — at the same time, to hold simultaneous video conferences both inside and outside the company.
* The newly released HDVC Mobile (for iOS/Android™ devices or Windows PCs) is required for use.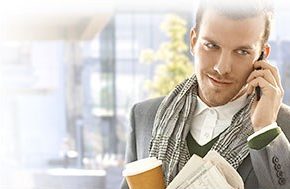 DIAL IN/ DIAL OUT
Connect by dialling in from a terminal, or dialling out from the server.
ADDRESS BOOK
Register up to 200 addresses.
CONTENT SHARING
You can easily share PC content, such as graphics and PowerPoint materials, for smooth meetings.

VERSATILE SCREEN LAYOUTS MATCH YOUR SITUATION
Choose the optimal display from seven patterns.
The screen layout automatically changes according to the number of HD Visual Communications Systems participating.
Change the layout manually while the meeting proceeds.
Determine the screen layout based on ones that you have set in advance.
Display the participating device with the highest sound volume as Priority 1(upper left screen).