IP NETWORKING FLEXIBILITY AND SCALE ABILITY
The KX-NS1000 fully supports IP, an open protocol for establishing real-time communication. Using IP effectively can result in compelling advantages such as improving user efficiency, and lowering communication costs.
ONE-LOOK NETWORKING
Controlling the Systems at Multiple Offices as a Single System
Panasonic's One-look Networking is a system where a single KX-NS1000 works and provides PBX features even though two or more KX-NS series units are networked.  It is not necessary to provide additional servers. The system can be expanded easily via a web based maintenance console. One-look Networking provides a maximum of 16 sites, and the large capacity of the KX-NS1000 supports up to 1000 users.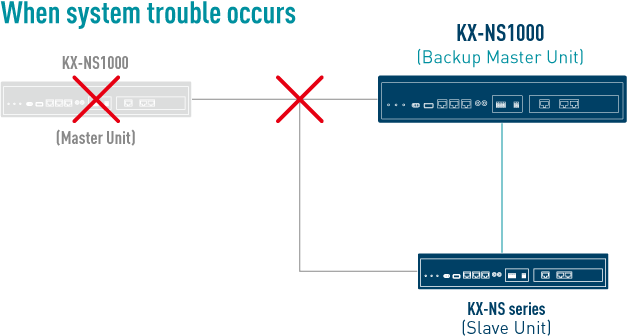 ONE-LOOK NETWORKING SURVIVABILITY
Reliable Backup System to Survive System Failures
With One-look Networking, the system can continue to operate even in the event of a failover due to system trouble with the master KX-NS1000. By specifying a backup master site, the backup master site will act as the master site temporarily to continue communication services when there is trouble with the master site. This enables each site to continue operating independently. IP terminals only can also be registered to another PBX.